SRI LANKA - ISLE OF DELIGHT !
What's the weather forecast for Sri Lanka now?

Click and compare the information

from both sources below !
Legends and history record that for countless centuries, Sri Lanka has always delighted visitors to its shores - princesses, poets, traders, empire-builders and others in all walks of life alike. Within short distances of travel on this small tropical island set in the sunlit surf of the Indian Ocean, you will experience to your delight, sudden, surprising and delightful geographical contrasts and variety. As the island is just 65,500 square Kilometers in size and offer something of remarkable variety for every visitor here, it is easy to take in quite a wide range in a relatively short space of time, even when time and money are limiting factors. Savour the diversity and charm of this unique island and you are certain to return again and again to self-discover new things that binds them more!
Colombo, the commercial capital, is just 32 Km south of the place you will first land here, the Colombo International Airport situated at Katunayake.
Amongst wide variety of interests the island offers you, lets first explore in detail the Beach Areas in South Coas. This is your Handy Reference Guide, even for the future !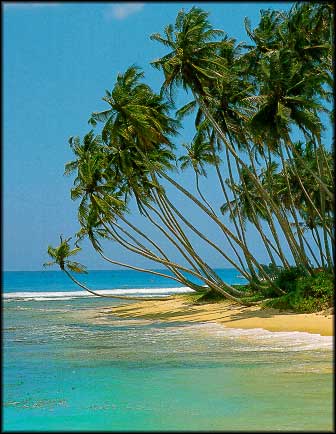 THE BEACHES OF PARADISE.
Sri Lanka is girdled by 1,500 Km of some of the most beautiful tropical beaches in the world on its southern and western (November April), eastern and northern (May September) shores. The Eastern coast that was once not accessible to tourists, have sand and water attractive. In South, beaches are sandier than those on the West and also do not shelve steeply into the sea. But whatever the location, the magic is everywhere, with an azure sea joining hands with sparkling surf, performing eurhythmics along a stretch of palm fringed beaches with golden sands bathed in tropical sunshine. The chances of anyone feeling too crowded on these beach here, is very remote.
JOURNEY DOWN SOUTHERN COAST.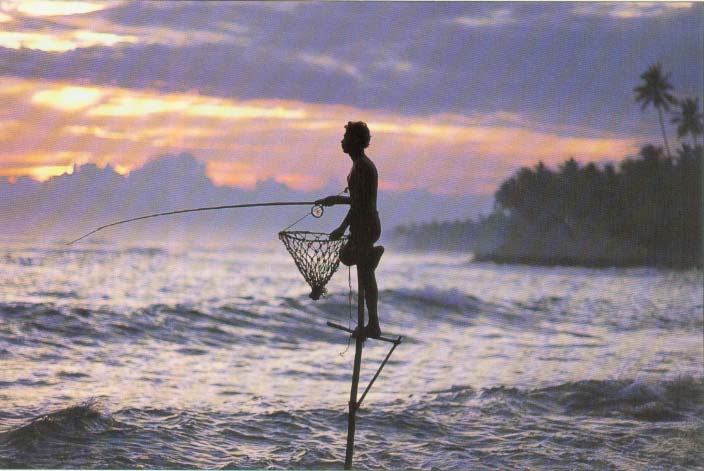 A "Stilt Fisherman". He sits patiently early morning and again at late evening hours when the sun is not hot yet, fishing on poles firmly driven into the sea-bed closer to the sea.
Getting to the south is far easier and definitely a region for only high-summer gear, decency being the watch word here. The main Highway (A2) running anti-clockwise from Colombo and popularly known as Galle Road (as it leads to the capital of South, Galle), hugs the coast after about 20 Km from Colombo for a very long further stretch of about 100 Km up to Galle and then beyond that for another 120 Km like. This coastal stretch south of Colombo has beach after beach as beautiful as anywhere in the world. There can hardly be a coastline anywhere else in the world, endowed with so many in numbers. I counted 20! Round every bend, you seem to come upon yet another inviting tropical vista. Anywhere on this coast, watch out for dangerous currents, undertow and rip tides. But Beaches are not all the south coast has to offer. Many beach resorts in the south and west, have superb leisure and recreational facilities, and professional services for wind surfing, water skiing, scuba diving (for colourful coral and marine life), snorkelling, sailing, surfing, boating and even fun-tube riding and perhaps beach volleyball. Beach resort hotels also offer good in-house entertainment and fresh sea-food specialities, during this period of time.
A drive through a region of remarkable diversity along the southern coast, you will be amazed to see wide array of special-interest and life-style experiences resort hinterlands offer. They include stilt-fishing, stilt-fishing, palm-toddy tapping, mask-carving, lace-making and turtle sanctuaries. You also have the opportunities to observe the marvels of Indian Ocean in a glass bottom boat and even perhaps take a dip in.
MOUNT LAVINIA
(13 Km). Yearning for a sandy beach and the splash of waves but no time to drive too far out? This is the place for you then.
WADDUWA
(32 Km) Wayside stalls sell coir and straw mats and basket ware.
KALUTARA
(43 Km) You will cross one of the four major rivers in the island, Kalu Ganga. The White tall dome-shaped Kalutara Buddhist Dagaba is unusual in that it is hollow inside but walls right round inside lines with beautiful paintings depicting the lives of Lord Buddha. Here you have the bonus of a magnificent top view of the bridges and the Indian Ocean beyond.
PAIYAGALA
(51 Km) It is the area for "toddy tappers" (men walking high above on ropes connecting the coconut trees, to tap the coconut flower for sap, that produces treacle, jaggery and toddy, a fermented sweet alcoholic beverage.)
BERUWALA
( 57km) A string of hotels along its fine, golden beach. Its a small fishing town with a large population of Muslims. The most significant landmark is the 'Kechimalai Mosque', believed to be the oldest on the island.
ALUTHGAMA
(60Km) Famous for the Buddhist Temple on the Hill Top, better known as the 'Kande Vihare'.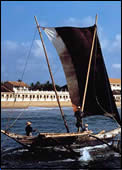 BENTOTA
(64 Km) In the mornings you may chance upon fisherman hauling in their daily catch, as they tug at the nets pulling them in. 6 Km inland Matugama Road passing Dharga Town, is the late Bevis Bawas stunningly beautiful 5-acre well laid out private garden and palatial house designed by his late brother Geoffrey, Sri Lankas foremost architect then.
KOSGODA
(73 Km) Along the stretch up to here, hatcheries have sprung up to help save turtle. Kosgoda is more reputed for Turtle viewing with islands original hatchery. Helping release the tiny, yet energetic, babies into the sea can be quite an experience. Please note that turtles, sensitive to noise and light, will not lay if they sense they will be disturbed.
AMBALANGODA
(85 Km) Its the town of traditional mask carving and offers a wide choice of puppets and colourful masks - 18 in variety, used in devil dancing. There is also a mask museum (entrance is free but with restricted times).
HIKKADUWA
(98Km) A most popular beach center. Unchecked tourism boom has led to an indiscriminate rash of hotels on the beach. Stretched out to a distance of about 4 Km, you will find a strip of houses, motels and guest houses, shops, cafes and restaurants on either side of the road and along the beach that provide all the standard travellers western-menu items. The world famous coral sanctuary is a large shallow area enclosed by a reef, carpeted with colourful corals and populated by countless tropical fish. Fishing is banned here. Its a crime to me that this lovely beach is being eroded in places, due to coral being torn up and burnt to make lime for building industry! A short distance south, there is good surf for boat riders, and international surfers are often here in numbers. Then there are numerous shops selling everything Sri Lanka has to offer. But watch out for touts and the screaming private buses whistling past you far too fast! An interesting Buddhist Temple with lots of paintings is nearby. Legend says its here the scholar, poet and well known Buddhist priest who had lots of divine power, 'Most Venerable Thotagamuwe Siri Rahula', resided. Also a popular shrine dedicated to a god named 'Devol Deviyo', is situated at Seenigama in the sea.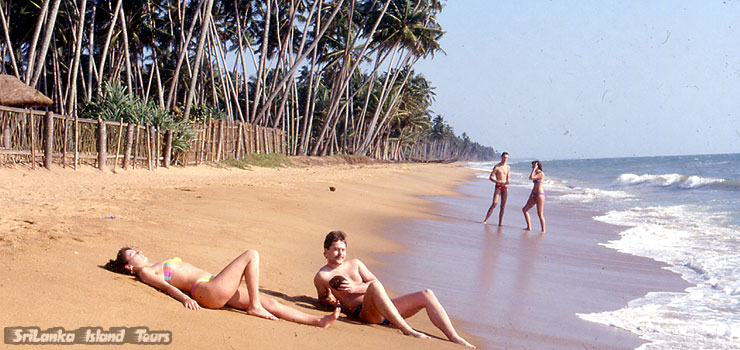 GALLE
(116 Km) Apart from the International Cricket Stadium, the main landmark here is the 90 acre Dutch Fort built in 1663 time. It is Sri Lankas most historically interesting "active and living" city. In fact this Fort or the Old Town is now a World Heritage Site. A walk over 90 minutes or so along the ramparts, at dusk after the daytime heat fades away, reveals the amazing sewerage system the Dutch then had. Within the Fort itself, there are numerous sites to attract you. Historical mansion with a museum on Leyn Baan Street inside the Fort, is one worth visiting.
UNAWATUNA
(120 Km) One of the world famous beaches different to others over a wide curving bay. Pollution in some areas is a deterrent to bathing and swimming.
WELIGAMA
(146 Km) On your way passing Ahangama is the home of Stilt Fishermen. (See the photograph). Unusual sight but perhaps an exercise which does not seem fruitful. It has the finest sandy sweep of bay, just as its name of sandy village. Its famous for hand made lacework. At a nearby park is a rock-carved figure known as "Kustaraja Gala", described as a King who was mysteriously cured then of leprosy.

MIRISSA
(150 Km) Another stunningly beautiful curve of sandy beach, with calm, cleaner and clear waters that are a delight to swim in or even just lie in front of. The east-end rocky outcrop is very good for sunset-watching.
Matara town's ancient Lighthous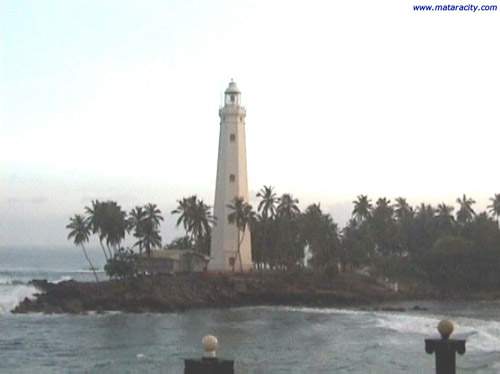 MATARA
(160 Km) A historic and lively enough city worthwhile to explore. It also has two fine Dutch Forts. Along the Colombo Road after the temple, there is a factory making high-quality many types of drums for Buddhist temples, where you can watch the process and even purchase genuine instruments. 3 Km towards Colombo and 1 Km inwards, is Polhena a quiet village that has very good coral reef you could easily walk to at low tide and a marvellous beach. Weherahena Buddhist temple with an enormously tall Lord Buddha Statue and an amazing artificial cave with over 200 paintings associated with Buddhist legendary. Around 8th December this year on the full moon day, a colourful procession (termed "perahera") is scheduled at this temple with a big procession of dancers and elephants.
DONDRA LIGHTHOUSE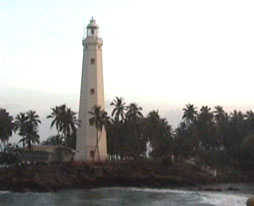 At the Southern most Tip of Sri Lanka
DONDRA or DEVUNDARA
(166 Km) The famous lighthouse here marks the southernmost point of the island. It offers beautiful view of the fishing boats riding the waves. There is good snorkelling here too. One of the famous temples dedicated to the God "Upulvan or Uthpala Vanna" with colourful paintings, is worth visiting.
DICKWELLA
(182 Km) Inwards 1.6 Km towards the town Beliatta, you will come across the largest seated Lord Buddha figure in the island, 50 meters in height at the temple Wewurukannala. Right behind it is a Eight Story building to make us realise it is as tall as that, where provisions are there for you to climb up inside this building and enjoy the panoramic view of the surroundings, over the Statue shoulders. There is an amazing collection of life-size, vibrantly coloured figures depicting Lord Buddha performing many things. It also has 28 previous Buddha incarnations and models of devils, monsters, Veddah community of people, along with paintings illustrating the "various forms of punishments evil doers will receive in hell", as the legend explains.
TANGALLA
(195 Km). A fishing town with series of small bays and several reminders of Dutch days here. Very good sea food for those who enjoy them. 16 Km north is "little Dambulla / Sigiriya", known as Mulkirigala. In a huge rock, steps lead up to a series of cleft-like caves. Like at Dambulla, they shelter large reclining Buddhas, together with wall paintings and other figures of interest.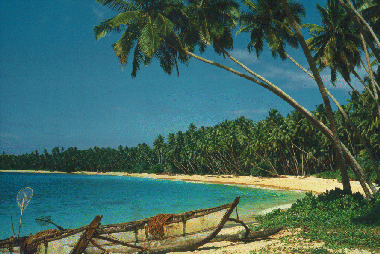 HAMBANTOTA
(237 Km) You leave the Wet-Zone and enter the Dry-Zone of the country here. The major industry here is the production of sea-salt by the age-old method of evaporating sea water from massive shallow salt pans. It is also the area for Buffalo Curd and Honey or Treacle, a must to enjoy eating whilst here. Bundala Sanctuary is in closer proximity.
KIRINDA
(~270 Km) The beach here, in my opinion, is worth seeing going all this distance !! It has an unparallel unspoilt beach and a small Buddhist shrine on the rocks. Two Reefs are there on which Two significant light houses for all ship movements (known as Maha Ravana and Kuda Ravana) are situated on two Reef tops. On rare occasions when conditions permit, they have some of the most spectacular scuba diving here.
With so....... many beaches, mostly different to one another, it is highly unlikely that you will want to return to Colombo so soon! On your return trip to Colombo, don't forget to plan to stop at a convenient location to see the sun set into the Indian Ocean, a spectacular sight in deed.